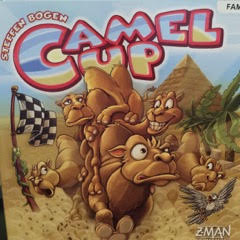 What is cuter than stackable wooden camel pieces? Not much! Camel Cup, or Camel Up, depending who you ask, is a family game designed by Steffen Bogen for up to 8 players with a recommended age of 8 years old or up in which players bet on the winning—or losing—camel.  The one who places the most successful bets and makes the most money wins the game.
A player may take one of four actions on her turn—get a colored dice from the pyramid dice shaker that matches the color of a particular camel and makes that camel—and all the camels on top of it—run, place an oasis/mirage tile on the track, which impacts camel stack movement, place a leg bet, or place an end of game winner/loser bet.
After all five camels have, "run," a leg is over and a scoring round ensues, in which players receive coins—or pay coins—based on their bets and other actions.   When a camel stack crosses the finish line, the game ends and the final scores are tallied—the one with the most money wins!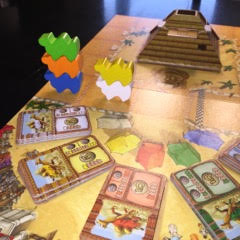 Camel Cup won the 2014 Spiel des Jahres and I can definitely see why.  The movement of the camel pieces around the track is unique—it is a bit of a roll-and-move game, but doesn't feel that way.  Camels can be boosted or held back through cleverly placed mirage or oasis tiles. A roll that results in the move of a camel stack, rather than a single camel, can have interesting consequences.
The components are amazing—the wooden camel pieces are thick and stack nicely. And the pyramid dice shaker is a nice novelty and did come with additional rubber bands. The game could have come with a simple cloth pouch for the blind draw of the dice, but the pyramid adds flavor.
The family opinion on this one was split.  Everyone liked the game; however, Carson and I loved it, and Aaron and Randall thought it was okay, but not quite exciting enough. Want to guess who won and who lost?
By Wanda James Green
The Verdict
---